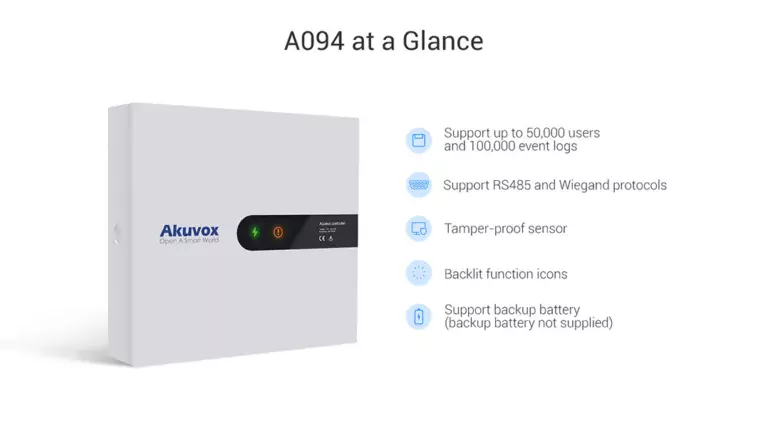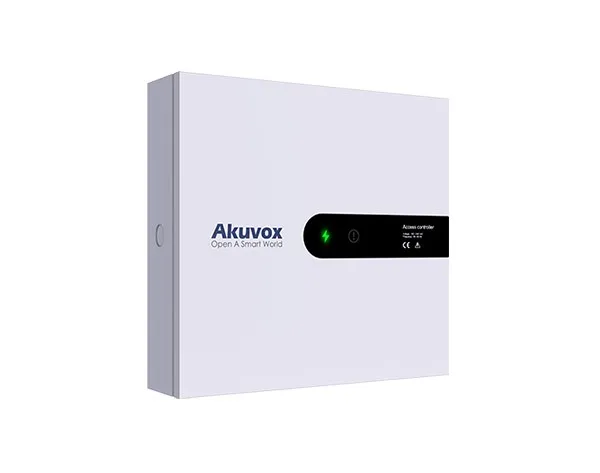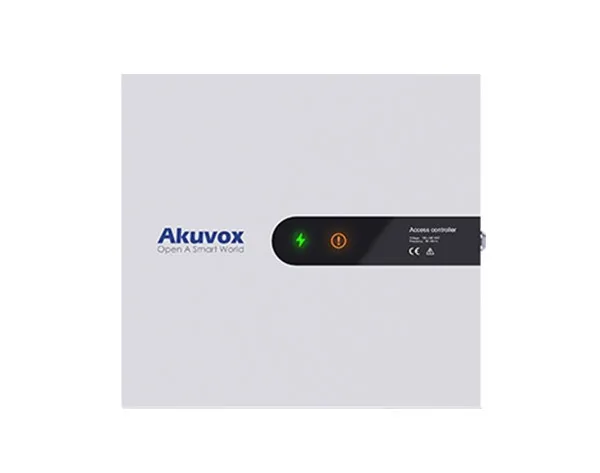 Akuvox A094S is a 4-door smart access controller in an SGCC cabinet that provides a high level of security and convenience for businesses and organizations of all sizes. It features a built-in backup battery and tamper-proof design to ensure continuous operation even in the event of a power outage or unauthorized attempt to access the system.
Akuvox A094S - Key Features:
Support Wiegand 26/34/58 readers
Support RS485 readers
Multi-door interlock function
Emergency door release
Access Scheduling
Built-in backup battery
Tamper-proof design to prevent unauthorized access
50,000 card capacity & 100,000 Event Log
TCP/IP communication
Permission Management
Akuvox A094S – Product Specification:
Manufacturer: Akuvox
Model: A094S
Front panel: SGCC
Wiegand: Support
Tamper Alarm: Support
Akuvox A094S Technical Specifications:
Stylish appearance
Supports TCP/IP communication and web interface for management
Supports up to 50,000 users and 100,000 logs presenting records
Supports multi-door interlock function and anti-pass back function
Supports RS485, Wiegand protocol for accessing card readers;
Support emergency door release (EDR)
Support tamper proof alarm;
Easy to establish large-scale access control system with Akuvox ACMS
Back up battery design
Front panel: SGCC
Power input: 100~240VAC/1.5A 50/60Hz
Input: 13
Wiegand port: 4
Relay Out: 8
RS485 port: 4
Power output: 4
Ethernet port: RJ45, 10/100 Mbps, adaptive
Tamper proof alarm: Support
Backup battery: Support
Status lights: Support
Installation: Wall-mounted
Dimension: 365 x 340 x 85 (mm)
Working Humidity: 10~90%
Working Temperature: -10℃ ~ +55℃
Storage Temperature: -20℃ ~ +70℃
50,000 user storage
Anti-pass back function
Multi-door interlock function
Access table export & import
Access level management
Door access logs query and export
Support Wiegand 26/34/58 readers
Support RS485 readers
Protocols support: IPv4, HTTP, HTTPS, FTP, TFTP, SNMP, DNS, SNTP, TCP, UDP, TLS, ICMP, DHCP, ARP
Deployment and maintenance
Auto-Provisioning
Web management portal
Web-based packet dump
Configuration backup / restore
Firmware upgrade
System logs
Please fill in the information below, or email us at info@dms-ksa.com and a dedicated DMS expert will contact you soon.