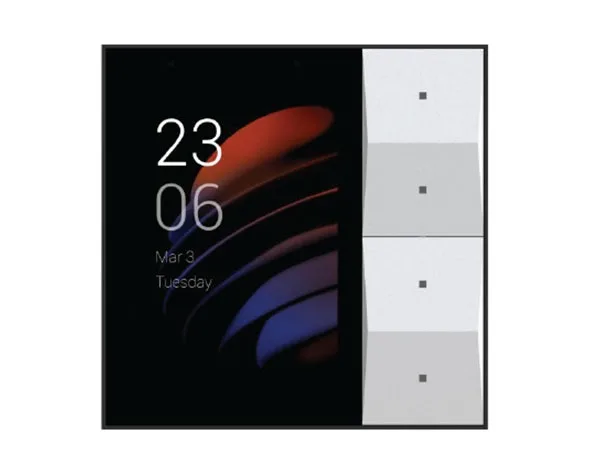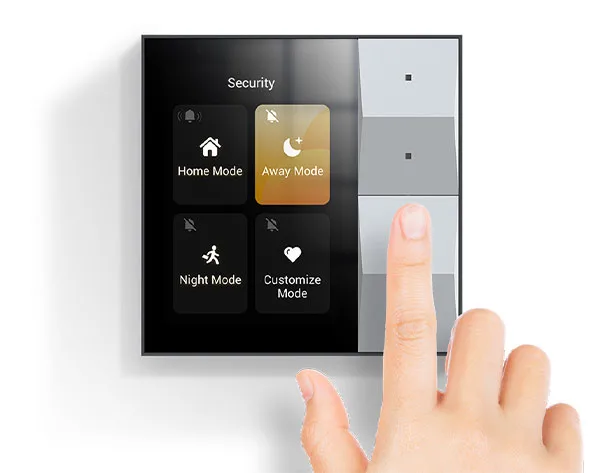 HyPanel Lite, 3.27-inch Touch Screen
The Akubela KS41 HyPanel Lite is a versatile control panel with Linux operating system. It has built-in speaker, microphones and ZigBee radio for communication with other ZigBee devices. Its all-in-one design integrates a smart intercom, dual output switch, ZigBee gateway, and more.
Akubela KS41-R2-EU - Key Features:
2-gang switch with up to 1200 watts of power
Built-in ZigBee radio
Built-in speaker and microphone
Built-in Proximity sensor
Built-in Light Sensor
Built-in Temperature Sensor
Built-in Humidity Sensor
Akubela KS41-R2-EU – Product Specification:
Manufacturer: Akubela
Model: KS41
Operating System: Linux
Screen Resolution: 320×480 pixels
ZigBee: ZigBee 3.0
Wi-Fi: 11 b/g/n, @2.4GHz
Bluetooth: Bluetooth 4.2
Akubela KS41-R2-EU Technical Specifications:
Model Number: KS41-R2-EU
Power Supply: 180~260VAC,50HZ
Operating System: Linux
DDR/Flash: 128MB/ 256MB
Wi-Fi: IEEE802.11 b/g/n, @2.4GHz
Bluetooth: Bluetooth 4.2
ZigBee: ZigBee 3.0
Microphone: Dual microphones, -26 DBFS
Speaker: Single speaker, 8Ω / 1.5W
Ethernet ports: 1xRJ45, 10/100Mbps adaptive
Output: *2-gang,1200W total.  *800W/gang for resistive.  *400W/gang for LED/CFL.
Material: Metal buttons, V0 fireproof PC
Screen: 3.27" touch screen
Screen Resolution: 320×480 pixels
Screen Brightness: 220 cd/㎡
Proximity sensor: 30~60cm
Light Sensor: Low-level lux detection
Temperature Sensor: ±1℃,Range: -10℃~55℃
Humidity Sensor: ±5%,
Range: 10%~90%RH, without condensation
Environment: For indoor use only
Working Humidity: 10%~90%RH,without condensation
Working Temperature: -10°C ~ +55°C
Storage Temperature: -20°C ~ +65°C
Installation: Wall flush mounting
Flush Mounted Box Standard: EU/UK/GB standard
Wiring Way: L- + N- wire required
Villas
Apartment complexes
Home automation systems
Modern interiors
Please fill in the information below, or email us at info@dms-ksa.com and a dedicated DMS expert will contact you soon.