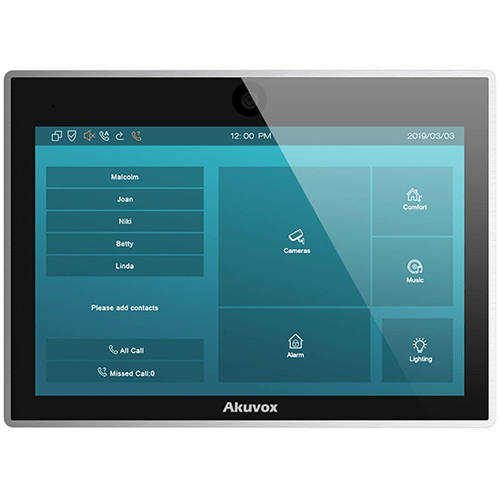 Akuvox IT83A is SIP-enabled IP indoor monitor with an Android operating system, suitable for apartment, complexes, home automation systems and villas with built-in 1MP CMOS camera, high-quality audio and video communications. It allows two-way audio communication with other units in the network. All in-home automation devices can be easily managed and controlled by it. It has 10-inch capacitive touch screen with energy saving mode
Akuvox IT83A - Key Features:
10-inch touch screen
WiFi
Bluetooth
1MP Camera
Intuitive Android Operating System
Premium audio and video quality
Home automation integration
Built-in smart voice assistant
Akuvox IT83A - Product Specifications:
Manufacturer: Akuvox
Model: IT83A
Dimension:5×29.75mm
Tamper resistant: Support
Water Proof: Yes
Dust Proof : Yes
Installation: Desktop and Wall Mount model
Akuvox IT83A – Technical Specification:
Ultra-clear, stylish appearance
10-inch capacitive touch screen with energy saving mode
Built-in 1MP CMOS camera
Reception of a HD picture from the door communicator
Two-way audio communication with other units in the network;
Complies with SIP standard for easy integration in every SIP capable PBXes;
Powered by PoE or external source
Support US or European electrical wall box mounting
Built-in smart voice assistant
Front panel: Aluminum

RAM / ROM: 2GB / 8GB

Display: 10 Inch IPS LCD

Screen: 10 Inch capacitive touch screenWi-Fi:IEEE802.11 b/g/n, @2.4GHz
BLE: Support BLE 4.0
Camera:1MP camera, CMOS
Memory slot:1
Micro SD slot
Bell in: 1
RS485 port: Support
Relays out: 2
IO: 8
Microphone: -58dB
Speaker: Dual speakers, 4Ω/ 2W
Ethernet ports: 2xRJ45, 10/100Mbps adaptive 802.3af Power-over-Ethernet 12V DC connector (if not using PoE)
Water-proof & Dust-proof: IP65
Installation: Wall-mounted &Desktop
Dimension: 251×182.5×29.75mm
Tamper resistant: Support
Working Humidity: 10~90%
Working Temperature: -10°C ~ +45°C
Storage Temperature: -20°C ~ +70°C
Display Mode: Normally black, Transmissive
LCD Size: 7inch (Diagonal)
Aspect Ratio: 16:10
Resolution: 1280×800
Contrast ratio: 900:1
Luminance: 280 cd/m2
Viewing Angle:  80° Left, 80° Right, 80° Upper, 80° Lower
Touch Screen: Projected capacitive
SIP v1 (RFC2543), SIP v2 (RFC3261)
Narrowband audio codec: G.711a, G.711μ, G.729
Broadband audio codec: G.722
DTMF: In-band, out-of-band DTMF (RFC2833), SIP Info
Echo Cancellation
Voice Activation Detection
Automatic Gain Control
Comfort Noise Generator 
Streaming formats: H.263 & H.264
Protocols support: : IPv4, IPv6, HTTP, HTTPS, FTP,TFTP, SNMP, DNS, SNTP, RTSP, SRTP, RTP, TCP,UDP, TLS, ICMP, DHCP, ARP
Auto-Provisioning
Web management portal
Web-based packet dump
Configuration backup / restore
Firmware upgrade
System logs (include door access logs)
Voice pickup distance up to 5 meters
Voice recognition accuracy up to 95%
Privacy protection with native voice data
Modern interiors
Apartment complexes
Home automation systems
Villas
Please fill in the information below, or email us at info@dms-ksa.com and a dedicated DMS expert will contact you soon.