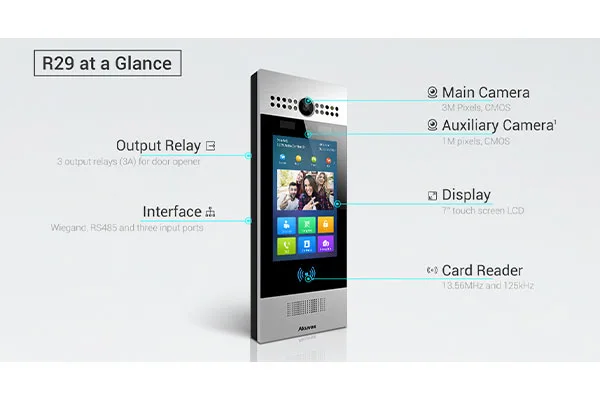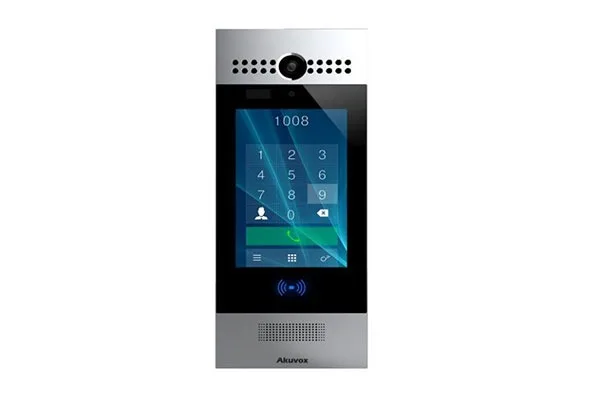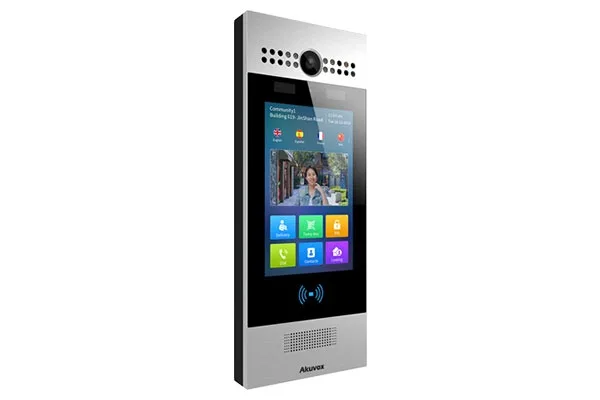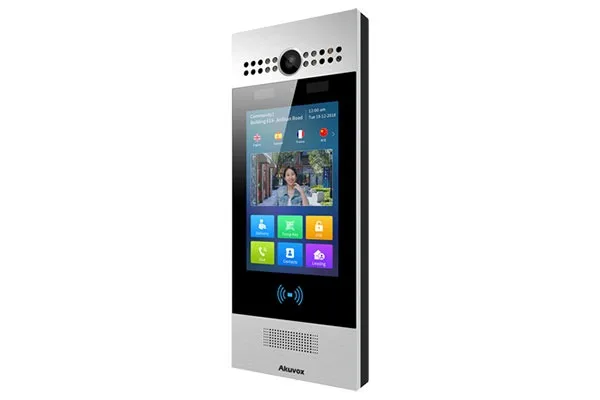 Akuvox's R29S SIP Video Door Phone provides an immeasurable sense of security. It gives you control over who has access to your building and lets you verify the identity of visitors both visually and verbally. Receive instant notifications when someone rings the bell, see and communicate with visitors directly from your smartphone, no matter where you are.
Akuvox R29S Key Features:
Audio and visual monitoring of doors/gates
Audio and video communication to an IP phone, mobile client, or softphone
Remotely control the door/gate
Large 7'' capacitive touch screen
2 Megapixel Camera with IR Sensor
Premium audio and video quality
Multiple access control – Keypad / Card
Akuvox R29S Product Specification:
Manufacturer: Akuvox
Model: R29S
Front panel: Aluminium
Display: 7 Inch IPS LCD
Screen: 7 Inch capacitive touch screen
Main Camera: 2M pixels, Automatic lighting
RF Card Reader:56MHZ & 125KHZ
Waterproof & Dust-proof: IP65
Installation: Flush-mounted & Wall-mounted
Akuvox R29s Technical Specifications:
Enables audio and visual monitoring of doors/gates which increase security on residential or commercial premises
Eliminates the need for personnel to be physically stationed at the door/gate which improves productivity and frees them up to work on other things
Allows both audio and video communication to an IP phone, mobile client, or softphone
Enables the ability to remotely control the door/gate
Presents information and user navigation options unique to your business
Speeds response time to visitors, delivery and service personnel that require access
Front panel: Aluminium
Display: 7 Inch IPS LCD
Screen: 7 Inch capacitive touch screen
Camera: 2M pixels, automatic lighting
RAM / ROM: 2GB / 16GB
Infrared sensor: Support
Light sensor: Support
Wiegand port: Support
RS485 port: Support
RF card reader: 13.56MHz & 125kHz
Relays In/Out: 3
Microphone: 1
Speaker: 1
Power out: 12V/400mA
Ethernet ports: RJ45, 10/100Mbps adaptive 802.3at Power-over-Ethernet
IP/IK Level: IP65 / IK06
Installation: Flush-mounted or Wall-mounted
Wall-mounted Dimension: 324x130x33mm
Flush-mounted Dimension: 324x130x60mm
Working Humidity: 10~90%
Working Temperature: -20°C ~ +55°C
Storage Temperature: -40°C ~ +70°C
SIP v1 (RFC2543), SIP v2 (RFC3261)
Narrowband audio codec: G.711a, G.711μ, G.729
Wideband audio codec: G.722
DTMF: In-band, out-of-band DTMF (RFC2833), SIP Info
Echo Cancellation
Voice Activation Detection
Comfort Noise Generator
Sensor: 1/2.8", CMOS
Pixels: CIF, VGA, 4CIF, 720p, 1080p
Video codec: H.264
Video resolution: up to 1920x1080p
Max. image transfer rate: 1080p – 30fps
Viewing angle: 105°(H) / 55°(V)
High intensity IR LEDs for picture lighting during dark hours with internal light sensor
White LEDs for QR code scanning
Compatible to 3rd -Party-Video components, e.g. NVRs
Android OS for any 3rd party software or customization
Relays controlled individually by DTMF tones
Multi-way Unlock: Face, IC/ID Card, PIN and BLE
Camera permanently operational
Auto-night mode with LED illumination
White balance: Auto
Minimum illumination: 0.1LUX
Protocols support: IPv4, HTTP, HTTPS, FTP, SNMP, DNS, NTP, RTSP, RTP, TCP, UDP, ICMP, DHCP, ARP
Auto-Provisioning
Web management portal
Web-based packet dump
Configuration backup / restore
Entry log export
Access table export / import
Firmware upgrade
System logs (include door access logs)
Office door phone with on-site or hosted IP-PBX
Remote site entry over Internet
Apartment/flat intercom with door access control
Business information or a welcome experience for guests
Please fill in the information below, or email us at info@dms-ksa.com and a dedicated DMS expert will contact you soon.