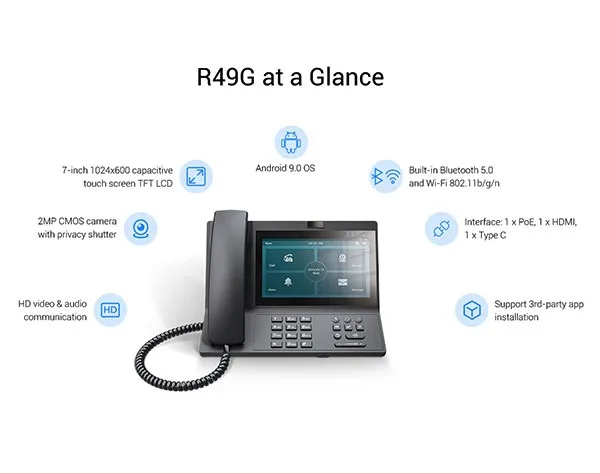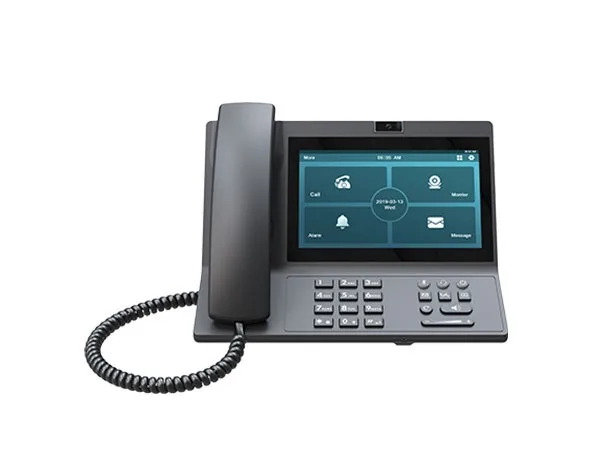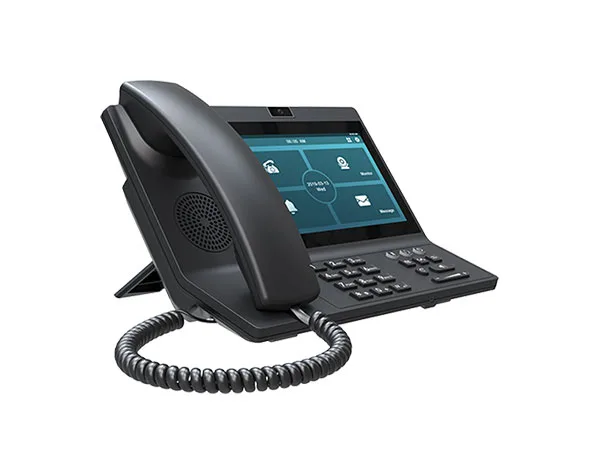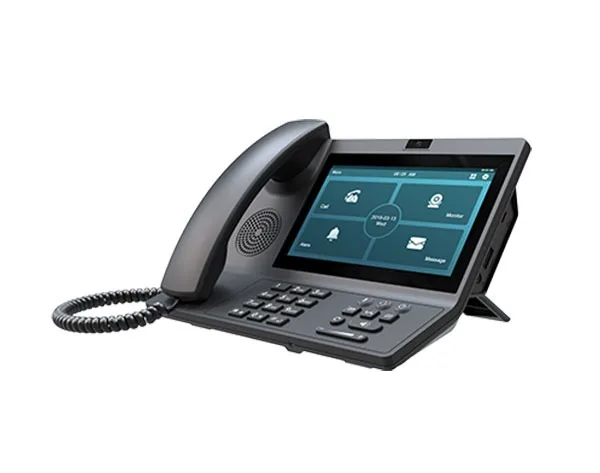 SIP Video Phone – Multifunctional Android IP Video Phone
Akuvox VP-R49G  is an Android-based IP video phone with a 7-inch touchscreen display. It supports H.264/H.263 codecs with adaptive bandwidth adjustment, suitable for video calling, internet browsing, and running Android apps. The VP-R49G also has a built-in camera with privacy shutter and microphone.The versatile VP-R49G is a good choice for businesses that need a video phone for communication and collaboration, or for homes that want a security camera with video calling capabilities.
Akuvox VP-R49G - Key Features:
7″ capacitive touch screen
Remote door opening for visitors during call
Live video streaming from door phone camera
Full-Duplex Speakerphone
2M pixels CMOS camera with privacy shutter
Security audit of alarm logs
Call Logs: 600 Entries (200 Missed Calls; 200 Dialled Calls; 200 Received Calls.)
Intelligent Search Method
Local Phonebook up to 3000 Groups
Multi-Languages Support
3 LED Lights (1 Power Light, 1 Network Light, and 1 Message Light)
Akuvox VP-R49G – Product Specification:
Manufacturer: Akuvox
Model: VP-R49G
Resolution: 1024 x 600
Dimension: : 250x210x98 (mm)
WiFi: Built-in
Bluetooth: Built-in
Operating System: Android 9
Flash Memory: 8GB
DDR3 Memory: 2 GB
Foot Stand
Akuvox VP-R49G Technical Specifications:
7-inch capacitive touch screen TFT LCD, 1024*600 pixels
2M pixels CMOS camera with privacy shutter
Dual switched 10/100/1000Mbps Ethernet ports, supporting IEEE802.11af and IEEE802.3az Energy Efficient Ethernet
Built-in Bluetooth, USB and Wi-Fi feature
Android 9.0 Operating System and support Android API for the 3rd party Android application installation
Voice and Video Codec : PCMA,PCMU, G.722, G.723, G.729, H.263, H.264;
Protocol: SIP RFC3261, TCP/UDP/IP, PPPoE, RTP/RTCP, HTTP/HTTPS, etc
AutoP: FTP/TFTP/HTTP/HTTP
Video Codec: H.263, H.264, H.265, VP8
Video Solution: QCIF, CIF, VGA, 4CIF, 720P
Video Bitrate: 64kbps-2Mbps
Adaptive Bandwidth Adjustment
Video Character: PIP, Full Screen, Local Video ON/OFF Control, Color Enhancement
Image Codec: JPEG, GIF, PNG, BMP
Hardware Encode/Decode Acceleration
Variable Bit-Rate
Wideband Audio Codec: G.722
Narrowband audio codec: PCMA, PCMU, OPUS, iLBC, G.729
Noise Suppression, VAD, CNG, AGC,
DTMF: RFC2833, In-Band, SIP INFO, Auto
Audio Accelerator
Echo Cancelation: AEC, AES, NLP
Full-Duplex Speakerphone
SIP V1(RFC2543), SIP V2(RFC3261)
Network Type: IPv4 & IPv6
UDP Keep Alive
NAT traversal: STUN
IP Assignment: DHCP, Static IP, PPPoE, VPN, VLAN
QoS: Layer 2 (802.1Q, 802.1p) and Layer 3 (ToS, DiffServ)
Protocols: HTTP/HTTPS/FTP/TFTP/SNMP/DNS/SNTP/RTSP/SRTP/RTP/TCP/UDP/TLS/ICMP/DHCP/ARP/DNS-SRV/PNP/ZRTP
Digest Authentication Using MD5/MD5-sess
AES encryption for configuration file
Access for Administration
Wideband Audio Codec: G.722
Frequency: 2.400 GHz ~ 2.497 GHz
Channels: No
Bandwidth: 20MHz
E.I.R.P: 802.11b /11Mbps : 18 dBm802.11g /54Mbps : 17 dBm802.11n /65Mbps : 16 dBm
Modulation mode: 802.11b: DQPSK, DBPSK, CCK802.11g/n: 64-QAM, 16-QAM, QPSK, BPSK
Android 9.0 Operation System
Support 2 SIP accounts
Call Waiting
Call Transfer
Call Hold
Mute
Auto Redial, Call Return
Multicast Paging
Speed Dial
Direct IP call
Dial Plan
Hotline
Action URL/URI  Local
Audio/Video Call
Recording
Conference
DND (Do Not Disturb)
Volume Adjustable
Ring Tones Selectable
Multi-Languages Support
Daylight Saving Time
Default Apps: Browser, Calculator, Calendar, Camera, Clock, Contacts, Dial, Downloads, Explorer, Gallery, Message, Music, Phone Settings, Reboot Setting, Search, Settings, Sound Recorder, Surveillance, Video
3rd Party Android Applications
Local Phonebook up to 3000 Groups
Phonebook with Contact Picture
Call Logs: 600 Entries (200 Missed Calls; 200 Dialed Calls; 200 Received Calls.)
Intelligent Search Method
Favorites
Blacklist
LDAP
Firmware Local Update: USB Flash Disk
Firmware Remote Update: HTTP/HTTPS method on Web
Auto Provisioning Using FTP/TFTP/HTTP/HTTPS, PNP/DHCP Option/Manual/Automatic methods
System Log Export
Restore to Factory Default
Configuration Managements Via LCD
7 Inch Capacitive Touch Screen
Resolution: 1024*600
Aspect Ratio: 16:9
3 LED Lights (1 Power Light, 1 Network Light, and1Message Light)
Flash Memory 8GB
2GB DDR3 Memory
Foot Stand
Camera: 2 Mega Pixels CMOS
RJ9 Handset
3.5mm Headset jack
Ethernet Jacks: 2 x RJ45 10/100/1000M
Energy Efficient Ethernet: IEEE802.3az
Power over Ethernet: IEEE802.3af
Wireless Access: 802.11b/g/n
Bluetooth
1 Type C
1 HDMI Video Out Port
Power Adapter: AC 100~240V Input, DC12V/1AOutput
Dimensions: 250x210x98 (mm)
Operating Temperature: 32º ~ 104ºF (0~40ºC)
Storage Temperature: -4º~ 158ºF (-20 ~70ºC)
Operating Humidity: 10% to 90% Noncondensing
Storage Humidity: 10% to 90% Noncondensing
Power consumption (approx.): 12W
Weight (approx.): 1.72kg
Giftbox Size: 498x254x148(mm)
Please fill in the information below, or email us at info@dms-ksa.com and a dedicated DMS expert will contact you soon.