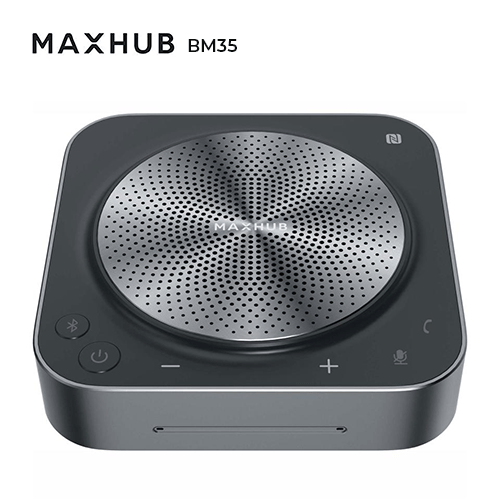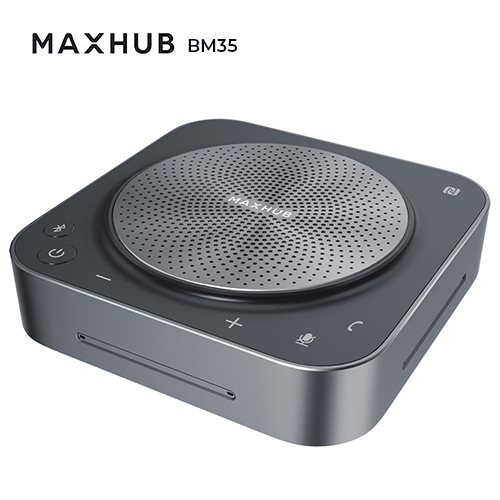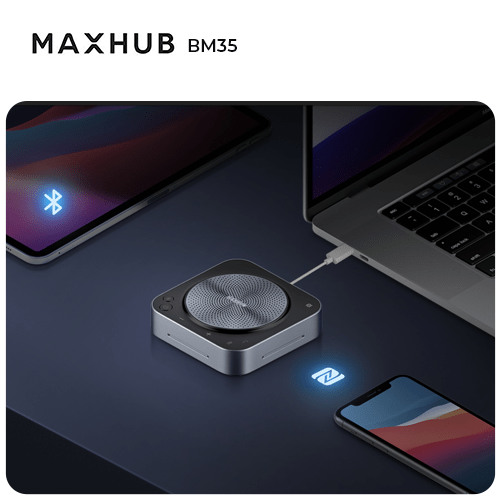 MAXHUB BM35 Bluetooth Teleconference Speakerphone
The MAXHUB UC BM35 is a powerful, portable, and versatile Bluetooth speakerphone that can be used for business meetings, music playback, and video calls. It offers crystal-clear audio, disruption-free sound with AI noise cancellation. Maxhub UC BM35 has a built-in subwoofer to ensure full-duplex audio.  With 360° omnidirectional audio algorithms, it captures voices up to 6 meters away. It is easy to use with multiple connectivity options: Plug-and-play, type C connections, Bluetooth dongles, and NFC connections to offer something for everyone.
MAXHUB Wireless Speakerphone (BM35) Product Specifications:
Manufacturer: MAXHUB
Model:BM35
Devices Connection: Connects to 3 devices at the same time.
Battery Life:15 Hours
MAXHUB Wireless Speakerphone (BM35) Key Features:
Rechargeable battery
Crystal-clear audio with 8 array mics
Disruption-free sound
AI noise cancellation
Hi-Fi sound quality
Built-in subwoofer
Full-duplex audio
Multiple types of connection: Plug-and-play, type C connections, Bluetooth dongles, and NFC connection
MAXHUB Wireless Speakerphone (BM35) Technical Specification:
Quantity: 8
Voice Pickup Range: 6m
Type: Digital microphone
Frequency Range USB: 100Hz~12kHz
Bluetooth: 100Hz~7.5kHz
Sound Channel: 1.1
Output Power: 5W+3W
Maximum Sound Pressure Level: 80dBSPL@1m
Distortion: <7% (80Hz~350Hz); <3% (351Hz~4kHz); <5% (4.1kHz~18kHz)
Signal to Noise Ratio: >75dB
Frequency Range: 80Hz~18kHz
Interface: USB Type-C
Button: Physical Buttons, Touch Buttons
LED Indicator light: Annular LED
Type: Lithium-ion Battery
Battery Capacity: 3.7V/4400mAh
Battery Charging: Wired: 5V/1A
Battery Life (Conversation): 15hours
Battery Life (Music): 8hours
Version: BT5.3
Operating Frequency: 2.4GHz
Operating Distance: 10m
Compatibility: Support audio playback, HD audio input, Compatible with Windows 7/8/8.1/10, MAC OS10.10 and above
Dimension( L×W×H): 126.7×126.7×35.3mm
Dimension(package) L×W×H: 1pcs 225×158×50mm 20pcs 472×335×292mm
Net Weight: 0.47Kg
Gross Weight: 1pcs 0.71kg 20pcs 16.89kg
USB Type-C Cable: ×1
USB Dongle: ×1
Operation Temperature: 0 C~40 C
Operation Humidity: 10%~90%RH
Storage Temperature: -20 C~60 C
Storage Humidity: 10%~90%RH
Altitude: Below 5000 meters
UC BM35 Speakerphone: 1
USB Dongle: 1
USB Cable(1m): 1
Speakerphone: 3 years
Accessories: 1 year
Please fill in the information below, or email us at info@dms-ksa.com and a dedicated DMS expert will contact you soon.