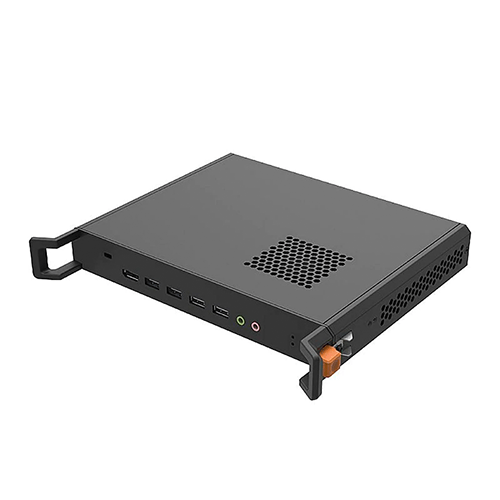 MAXHUB MT61N-i7 PC Module
The MAXHUB MT61N-i7 PC Module is a plug-and-play Windows 10 IoT computer that can be installed into MAXHUB V6 Classic, ViewPro or Transcend Series of Interactive Flat Panels. It is powered by an Intel Core i7 processor and has 16GB of RAM and 256GB of storage. The MT61N-i7 is ideal for video conferencing and presentations.
MAXHUB MT61N-i5 Key Features:
DDR4 8G Core HD Graphics
3 x USB3.0 ports
1x USB 2.0 ports
1 x RJ45 in
1 x HDMI
1 x mic in
MAXHUB MT61N-i7 Product Specification
Manufacturer: MAXHUB
Model: MT61N-i7 PC Module
CPU: 8th Gen Intel Core i7
Graphics: Intel UHD Graphics (supports 4K@60Hz)
Operating system: Win 10 IOT (64bit)
MAXHUB MT61N-i7 Technical Specification:
Device Type: Open Pluggable Specification (OPS)
Operating System: Win 10 IOT (64bit)
CPU: 10th Gen Intel Core i7
GPU: Intel UHD Graphics (supports 4K@60Hz)
RAM: 16G , DDR4
Internal Storage: 256G
Touchscreen Compatibility: Yes
TPM: 2.0
Platform: comet lake-S
HDMI Out: 1 (up to 4K@30fps)
USB 3.0: x3
USB 2.0: x1
RJ45 In: x1
Microphone In: x1
Power Requirements: 18V DC
Power Consumption Maximum: ≤ 106.5W
Power Consumption Standby: ≤ 1.1W
Dimension(L×W×H): 202 x 133.5 x30 mm
Dimension(package) L×W×H: 314× 256× 70 mm
Net Weight: 1.325 kg
Gross Weight: 1.745 kg
Operation Temperature: -10°~55°
Operation Humidity: 10%~90%RH
Storage Temperature: -20°~60°
Storage Humidity: 10%~90%RH
Standard Warranty: 3 years
Please fill in the information below, or email us at info@dms-ksa.com and a dedicated DMS expert will contact you soon.