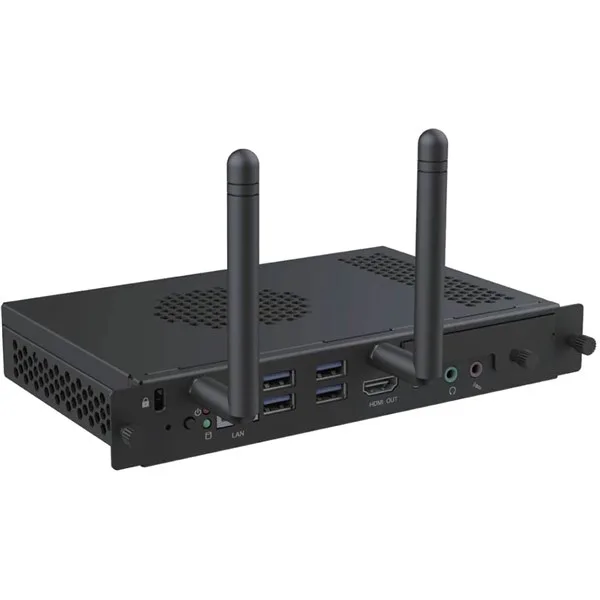 Core i5 PC Module for Maxhub V6 Interactive Flat Panel
The Maxhub OPS62-i5 is the perfect addition to your Maxhub V6 Education Series. With this Windows-based PC module, you can easily switch from Android to a familiar and intuitive Windows interface. Powered by an 10th Generation Intel Core i5 processor, it delivers lightning-fast performance for all your computing needs.
Installing the module into the available OPS slot on your panel is quick and effortless, allowing you to seamlessly navigate through your computer with ease. Whether you're presenting in a classroom or conducting business meetings, this product will provide you with a professional edge that sets you apart from the rest.

Invest in the Maxhub OPS62-i5 today and experience unparalleled efficiency at your fingertips!
MAXHUB OPS62-i5 Product Specifications:
Manufacturer: MAXHUB
Model: OPS62-i5
CPU: 10th Generation Intel Core i5
Graphics: Core UHD Graphics
Operating system: Windows 10 IOT (64bit)
MAXHUB OPS62-i5 Key Specifications:
8GB RAM
128GB SSD hard drive
4 x USB 3.0 USB Ports
1 x RJ45 Gigabit LAN port
1 x HDMI out port
1 x USB Type-C
1 x Audio Out
1 x Mic in
Kensington Lock Slot.
Please fill in the information below, or email us at info@dms-ksa.com and a dedicated DMS expert will contact you soon.