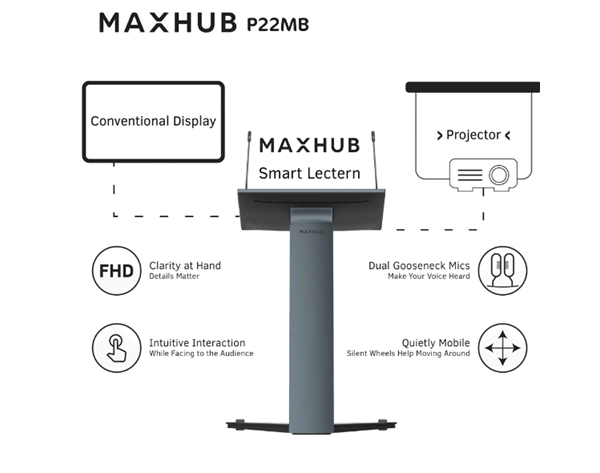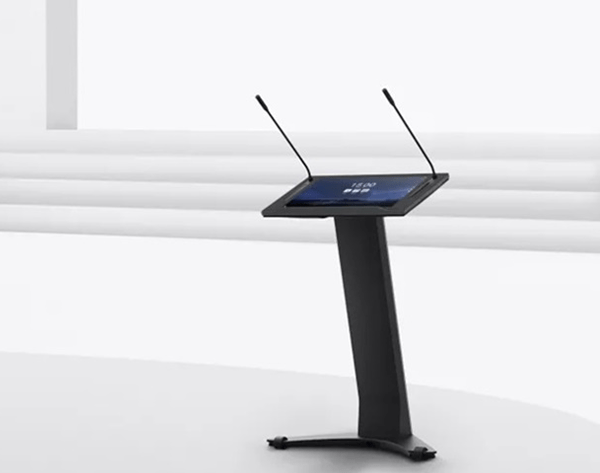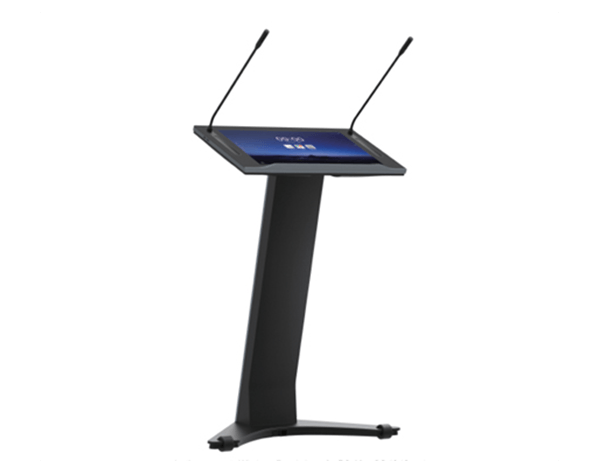 Smart Podium with Integrated WIFI, Wireless Mirroring, Hotspot, Active Pen SP08
MAXHUB P22MB – Smart Podium, is a fully integrated next generation smart lectern with PC (compute), dual microphones to revolutionize your presentations and meetings. This sleek, powerful lightweight device is designed to enhance your productivity, streamline your workflow, and impress your audience with its cutting-edge features.
With a 21.5-inch full HD touchscreen display, electromagnetic writing pen interact with your content in real-time using touch gestures or a stylus pen. Connect up to four external devices simultaneously via HDMI or USB ports. The MAXHUB P22MB – Smart Podium comes equipped with intelligent voice recognition technology that allows you to control the device hands-free without needing any additional equipment. Plus, it has built-in speakers and microphones that deliver crystal-clear sound quality so everyone in the room can hear you loud and clear. Height Adjustable and Integrated mobile castors.
The adjustable height feature ensures that everyone can enjoy comfortable viewing angles regardless of their height. With its smooth-rolling mobile caster locking mechanism, moving your display from one room to another has never been easier.
MAXHUB P22MB Podium Product Specifications:
Manufacturer: MAXHUB
Model: Maxhub P22MB
Color: Black
MAXHUB WB05 MAXHUB P22MB Podium Key Features:
Integrated Module with WIFI
Wireless Mirroring
Hotspot
Active Pen SP08*1
Goose Neck Mic*2
Wireless Audio Receiver*1
Built in PC Intel Core i5-8250U(1.6GHz),8GB,128G SSD
Integrated Graphic Card.
MAXHUB P22MB Podium Technical Specifications:
Dual Gooseneck Microphones.
21.5″ integrated touch screen (stylus/pen or finger).
Electromagnetic Writing Pen.
Integrated Intel i5-based Personal Computer (Microsoft Windows 10).
Network Connection via WiFi to Enable Wireless Content Sharing.
Height Adjustable and Integrated mobile castors.
Size: 21.5 inches
Screen Type: IPS
Resolution: 1920×1080
Color Depth: 8bit/16.7M colors
Touch Technology: P-Cap + EMR
Capacitive Touch Points: 10 points
EMR Touch Points: 1 point
Tough With:  Stylus or Finger
Touch Accuracy (Stylus): 10.5mm
Types of EMR Stylus Supported: SP08 Electro-magnetic Stylus/1024 Pressure Sensitivity
Operating System: Microsoft Windows 10
CPU: Intel 8th Gen i5
RAM/Memory: 8GB
Hard Storage: 128GB SSD
Network: WiFi
HDMI: 1x Out
Audio: 1x Out
USB 2.0: 2x
Distance: 12 meters
Frequency: 2.4GHz/5GHz
Speakers: 2x
Microphone: 2x, Gooseneck
Please fill in the information below, or email us at info@dms-ksa.com and a dedicated DMS expert will contact you soon.