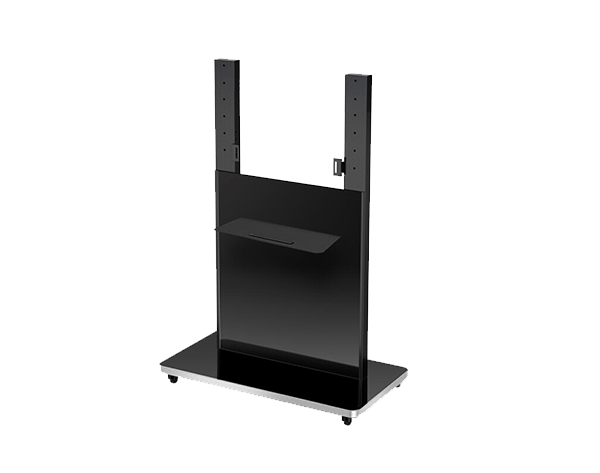 Large Mobile TV Stand for 65"-86" Displays
The Maxhub ST23C Mobile Trolley is an ideal companion for your commercial display needs and can be used with TVs, digital signage, and interactive displays. Maxhub ST23C Mobile Stand offers unparalleled durability and functionality. Its sturdy aluminium frame can support displays sizes from 65″ up to 86″, with a maximum weight capacity of 100Kg. The adjustable height feature ensures that everyone can enjoy comfortable viewing angles regardless of their height.
But that's not all – this mobile stand also comes with a built-in shelf that provides additional storage space for your devices or accessories. Its cable management system keeps cords neat and organized while preventing tripping hazards.
The Maxhub ST23C Mobile Stand is made from high-quality materials that ensure durability and longevity. Its sleek black finish adds a touch of sophistication to any environment while blending seamlessly with any decor.
If you want an exceptional display experience without sacrificing mobility or flexibility, look no further than the Maxhub ST23C Mobile Stand. Don't just take our word for it – our satisfied customers rave about its ease of use and reliability!
MAXHUB ST23C Product Specifications:
Manufacturer: MAXHUB
Model: ST23C
MAXHUB ST23C Key Features:
Compatible with Multiple Sizes (65", 75", 86" MAXHUB Panels).
Flexible Height Adjustment.
Easy to move.
Flexible Storage.
Removable Tray.
Superior Metal Appearance.
All metal design, simple and durable.
Please fill in the information below, or email us at info@dms-ksa.com and a dedicated DMS expert will contact you soon.