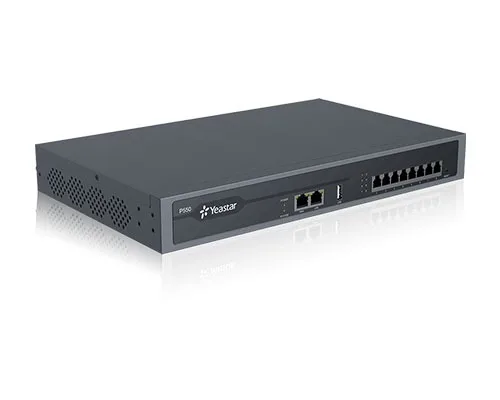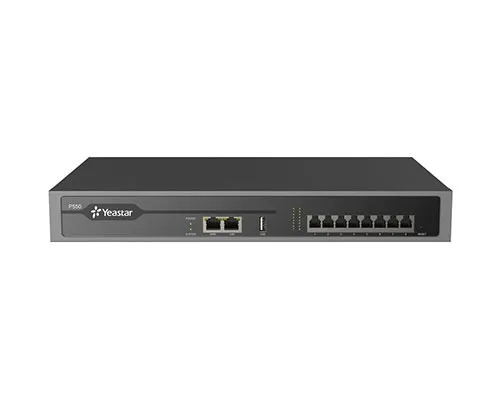 The Yeastar P550 P-Series IP PBX is an efficient and reliable telephony solution that meets all your business communication needs. With 8 FXS ports, 8 FXO ports, and support for up to 25 concurrent calls, this IP PBX is robust and scalable, allowing you to add extensions or lines as your business expands without any difficulty. It integrates voice, video, applications, and collaboration tools into a single device, making it easy for businesses to streamline their communication infrastructure. The P-Series IP PBXs also come with system indicators that ensure smooth operations, with a blinking light indicating that the system is working properly, and a static or off light indicating that there is a problem. Suitable for SMEs, call centers, and businesses with remote work demands, the Yeastar P550 is a sophisticated system designed to empower your work-from-anywhere teams with engaging collaboration experiences.
Yeastar P550 Key Features:
FXS port (green light): Connect analog phones or fax machines.
BRI port (orange light): Connect ISDN BRI lines.
FXO port (red light): Connect PSTN lines or FXS ports
Built-in voicemail, call recording, and unified messaging
Support for call center features, such as call queuing and call distribution
Web-based management interface
Easy to install and use
Max Cellular Ports: 4
Max E1/T1/J1 Ports: 0
External Storage: USB
Yeastar P550 Product Specifications:
Manufacturer: Yeastar
Model: P550
Users: 50 Users
Concurrent Calls: 25
Max FXS Ports: 8
Max FXO/BRI Ports: 8
Yeastar P550 Technical Specifications:
Base Users / Max Users: 50
Max Concurrent Calls: 25
Base / Max Call Center Agents: 50
Max FXS Ports: 8
FXO/BRI Ports: 8
GSM/3G/4G Ports: 4
E1/T1/J1 Ports: –
Expandable D30: 0
NFC Read/Write: Yes
Ethernet Interfaces: 2 x (10/100/1000 Mbps)
Hard Disk: No
USB: 1 (Up to 2TB)
Power Supply: AC 100-240V 50/60HZ 0.6A max
Size (L x W x H) (cm): 34 x 21 x 4.4
Weight: 1.64 KG
Form Factor: 1U Rackmount
Operation Range: 0°C to 40°C, 32°F to 104°F
Storage Range: -20°C to 65°C, -4°F to 149°F
Humidity: 10-90% non-condensing
Please fill in the information below, or email us at info@dms-ksa.com and a dedicated DMS expert will contact you soon.