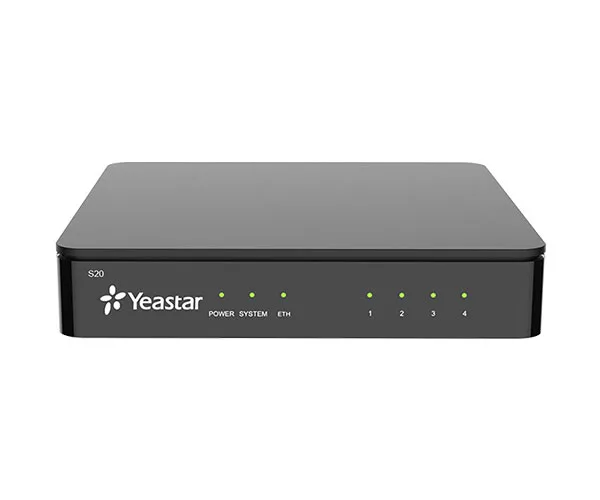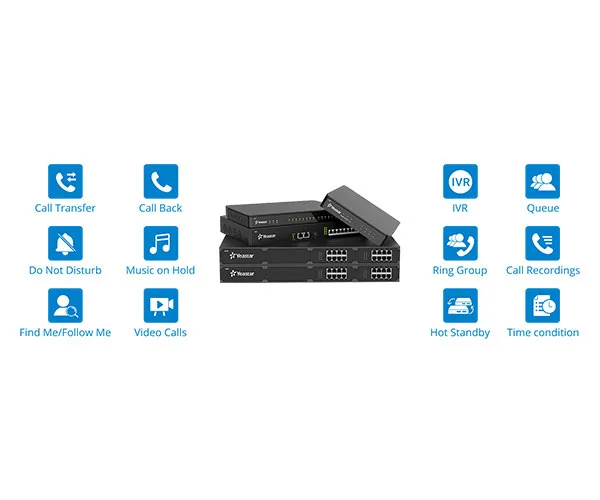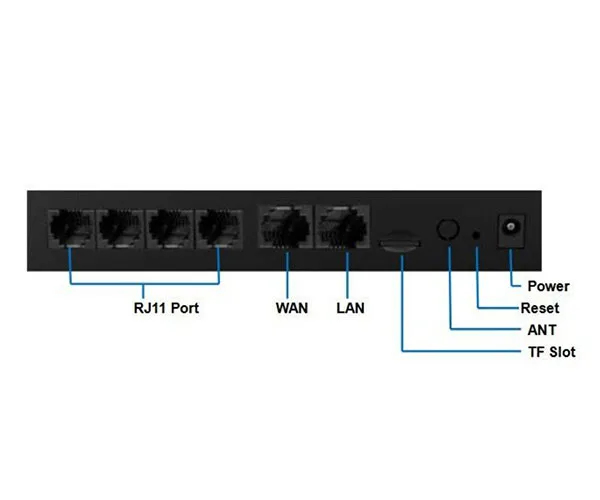 VoIP PBX- IP PBX S20 Telephone System
The Yeastar S20 VoIP PBX is an innovative communication solution supporting up to 20 users and 10 concurrent calls, making it ideal for small businesses with growing communication needs. The S20 uses IP technology to provide excellent sound quality while also saving on costs by eliminating long-distance fees. The Yeastar S20 VoIP PBX provides advanced security measures such as TLS/SRTP encryption protocols which protect sensitive data transmissions, ensuring confidential conversations always remain private
Installing and managing Yeastar S20 VoIP PBX is easy, thanks to its user-friendly web-based interface. You can easily configure call routing rules, set up voicemail boxes for each extension, manage call logs and recordings all in one place. With a unique modular design, the S-Series is engineered to meet current and future communication needs while securing your investment.
Yeastar S20 VoIP PBX Key Features:
Connect multiple sites and remote users instantly
Works with SIP/IAX2, PSTN lines, ISDN BRI, E1/T1/PRI, and GSM/3G/4G
Built-in call recording capability
Convenient integration with cloud call center, PMS, and CRM
Supports IP Phones
Low power consumption
Microsoft Teams Integration
Yeastar S20 VoIP PBX Product Specifications:
Manufacturer: Yeastar
Model: IP PBX S20
Number of users: 20
Max Concurrent Calls: 10
Max Analog Ports: 4
Max BRI Ports: 4
Max Cellular Ports: 1
Yeastar S20 VoIP PBX Technical Specifications:
Users: 20
Max Concurrent Calls: 10
Max Analog Ports: 4
Max BRI Ports: 4
Max GSM/3G/4G Ports: 1
Max EIITI/JI Ports: –
VolP Trunks: 20
Protocol: SIP (RFC3261), IAX2
Transport Protocol: UDP, TCP, TLS, SRTP
Codec: G711 (alaw/ulaw), G722, G726, G729A, GSM, Speex, ADPCM, iLBC, H263, H263P, H264, MPEG4
DTMF: In-band, RFC4733, RFC2833, SIP INFO
LAN: 1 × 10/100 Mbps
WAN: 1 × 10/100 Mbps
IP Services: Static IP, DHCP, VPN, Firewall, VLAN, DDNS, PPPoE, QoS, Static NAT, STUN
Voicemail: 5000 min (expandable)
Firewall: Yes
T.38 Fax: Yes
Hot Standby: Yes
App Center: Linkus Mobile Client, Phone Provisioning, LDAP Server, Conference Panel, VPN Server, Billing App, Hotel App, char utile h+ Integration, QueueMetrics Live Integration
External Storage: TF Card
USB: –
Power: DC 12V 1A
Size (L x W x H) (cm): 16 x 16 x 3
Weight: 0.3 kg
Power Consumption: 1.8-10.6 W
Mounting: Desktop & Wall-mount
Operation Range: 0°C to 40°C, 32°F to 104°F;
Storage Range: -20°C to 65°C, -4°F to 149°F;
Humidity: 10-90% non-condensing
Please fill in the information below, or email us at info@dms-ksa.com and a dedicated DMS expert will contact you soon.