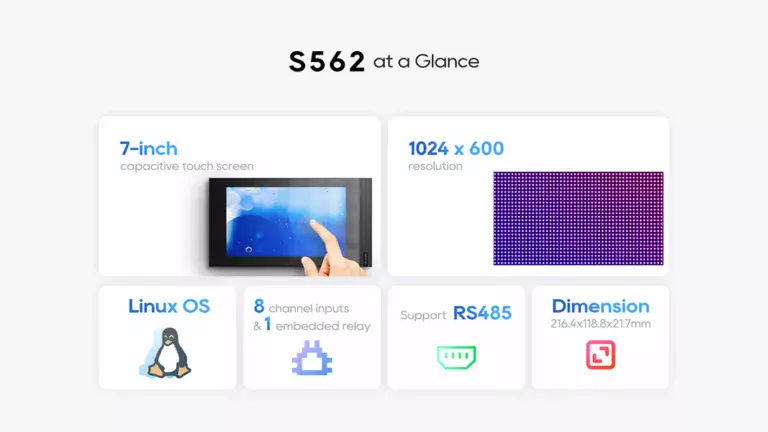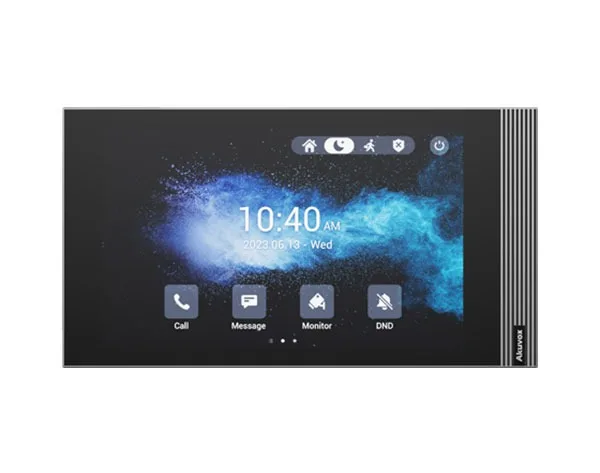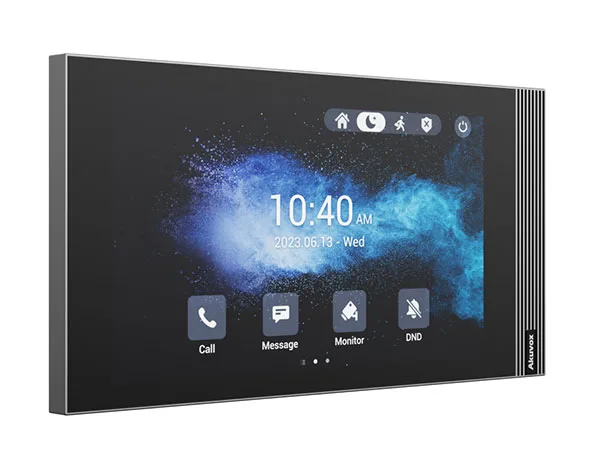 SIP enabled IP Indoor Monitor
Akuvox S562 is a SIP 2.0-enabled IP indoor monitor, suitable for apartments, complexes, home automation systems and villas with built-in high-quality audio and video communications with door phones. It allows two-way audio communication with other units in the network. All in-home automation devices can be easily managed and controlled by it. It has 7-inch capacitive touch screen with energy saving mode.
Akuvox S562 - Key Features:
7″ Linux indoor monitor
Intuitive Android Operating System
Premium audio and video quality
Third Party Camera integration
Akuvox S562 – Product Specification:
Manufacturer: Akuvox
Model: S562
Resolution: 1024×600
Dimension: : 216.4×118.8×21.7mm
Operating System: Linux OS
Installation: Wall-mounted &Desktop
Akuvox S562 Technical Specifications:
Ultra-clear, stylish appearance
7-inch capacitive touch screen with energy saving mode
Two-way audio communication with other units in the network
Complies with SIP standard for easy integration in every SIP capable PBXes
Powered by PoE or external source
Support US or European electrical wall box mounting
Front panel: Plastic
Display: 7 Inch TFT LCD 1024×600 resolution
Screen: 7 Inch capacitive touch screen
RAM / ROM: 128 MB / 128 MB
RS485 port: Support
Bell in: 1
Relays Out: 1
Microphone: -42dB
Speaker: 4Ω/ 2W
I/O: 8
Ethernet ports: 2 x RJ45, 10/100Mbps adaptive
802.3af Power-over-Ethernet
12V DC connector (if not using PoE)
Installation: Wall-mounted &Desktop
Wall-mounted & Desktop Dimension: 216.4×118.8×21.7mm
Working Humidity: 10~90%
Working Temperature: -10°C ~ +45°C
Storage Temperature: -20°C ~ +70°C
Display Mode: Normally white, Transmissive
LCD Size: 7inch (Diagonal)
Resolution: 1024×600
Contrast ratio: 600:1
Luminance: 250 cd/m2
Viewing Angle: 50° Left, 50° Right, 40° Upper, 50° Lower
Touch Screen: Projected capacitive
SIP v1 (RFC2543), SIP v2 (RFC3261)
Narrowband audio codec: G.711a, G.711μ, G.729
Wideband audio codec: G.722
DTMF: In-band, out-of-band DTMF (RFC2833), SIP Info
Echo Cancellation
Streaming formats:  H.264
Protocols support: IPv4, HTTP, HTTPS, FTP, SNMP, DNS, NTP, RTSP, RTP, TCP, UDP, ICMP, DHCP, ARP
Auto-Provisioning
Web management portal
Web-based packet dump
Configuration backup / restore
Firmware upgrade
System logs (include door access logs)
Modern interiors
Apartment complexes
Home automation systems
Villas
Please fill in the information below, or email us at info@dms-ksa.com and a dedicated DMS expert will contact you soon.