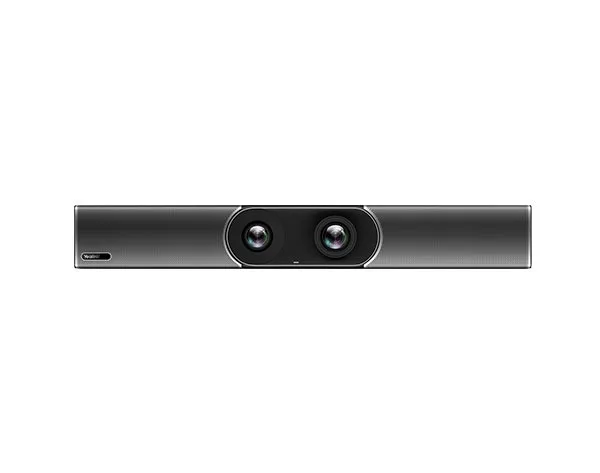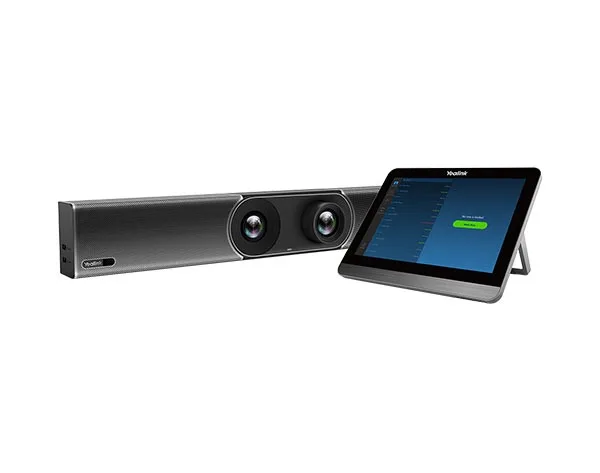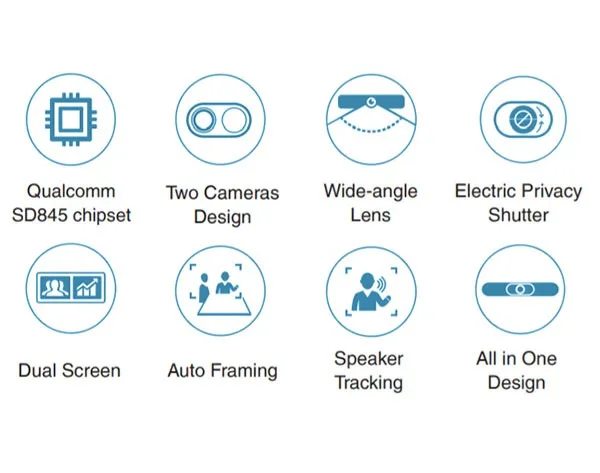 All-in-One Video Collaboration Bar
The Yealink MeetingBar A30 is specifically designed to meet the needs of medium-sized rooms, offering an all-in-one video conferencing solution. It offers a dual-camera system consisting of an optical camera and an 8-megapixel digital camera, ensuring high-quality visuals and 8 MEMS microphone arrays and speakers for clear audio transmission during meetings. It is easy to set up and use, and offers a variety of features that can help you to improve your video conferencing experience.
Yealink A30 - Key Features:
Dual Camera System
Auto Framing
Speaker Tracking
Time and date synchronization using SNTP
Dual-screen Support (Video meeting and content sharing)
Flexible Mounting Methods
Electric lens cap to protect room privacy
Whiteboard Collaboration
Mobile Remote Control
Wireless Content Sharing
Yealink A30 - Product Specifications:
Manufacturer: Yealink
Model: MeetingBar A30
Category: Video Collaboration Bar
Operation system: Android 10
Built-in WiFi: Yes
Built-in Bluetooth: Yes
Yealink A30 - Technical Specifications:
Wide Camera:

8 MP Camera
Field of view: 120°
4 x e-PTZ Camera
120° DFOV, 112° HFOV, 79° VFOV

Telephoto Camera:

8 MP Camera
Field of view: 90°
10x Hybrid Zoom (3.5x optical, 3x digital)
Horizontal Rotation Angle: +25°/-25°
Vertically Rotation Angle: +16°/-16° – 90° DFOV, 81° HFOV, 50° VFOV

Electric Privacy Shutter.
Intelligence Features.
Auto Framing (Frame and capture everyone in detail).
Speaker Tracking (Switch automatically between active speakers).
Picture in Picture (View speaker and group people simultaneously).
Smart Gallery (Zoom only, display multiple video feeds from a single conference room).
Built-in 8 MEMS microphone array with a voice pickup range of 6 meters
Support external mic
Two Built-in speakers with the maximum volume of 93dB
Yealink Noise Proof Technology
Full-duplex
AGC (Automatic Gain Control)
Echo cancellation
Beamforming directed voice pickup technology
Built-in microphone frequency response: 100Hz to 8kHz
Speaker frequency response: 100Hz to 8kHz
Video Standard and Network Suitability
Video codecs: H.264 High profile, H.264 SVC, H.264
Calendar
One-click join
Meeting collaboration:

Content sharing
Whiteboard
Meeting control:

Add participates
Hold/Resume
Camera On/Off
Mute/Unmute
Volume Up/Down
Hang up
Network and Security Features
Built-in dual-band Wi-Fi (2.4 GHz/5 GHz)
Built-in Bluetooth 4.2
IPv4 and IPv6, DHCP/static IP
HTTP/HTTPS web server
TLS 1.2/1.3, AES 256-bit encryption
QoS: 802.1p/q, Diff-serv
VLAN, LLDP
IEEE802.1X

EAP-MD5/EAP-TLS
PEAP-MSCHAPv2
EAP-TTLS/EAP-MSCHAPv2

Network diagnosis: Ping, Trace route
Time and date synchronization using SNTP
Built-in certificate
2 x HDMI output (CEC supported)
HDMI input (through the VCH51 Sharing Kit)
Motion sensor (Teams supported)
1 x Line-in (3.5 mm)
1 x Line-out (3.5 mm)
2 x USB 2.0
1 x 10 M/100 M/1000 M Ethernet port
1 x Yealink extension port (RJ-45)
1 x Power port
1 x Security lock slot
1 x Reset slot
External Yealink Power Adapter: AC 100-240 V Input and DC 48 V/0.7 A Output
Operating Temperature: 0 – 40°C
Operating Humidity: 10% – 90%RH
Storage Temperature: -30 to +70°C
Peak Power Consumption: 18 W
Average Power Consumption: 12.5 W
Standby Power Consumption: 14.9 W
USB Output: 5 V 0.5 A
Dimension (W.D.H): 700 mm x 98 mm x 121 mm
Please fill in the information below, or email us at info@dms-ksa.com and a dedicated DMS expert will contact you soon.