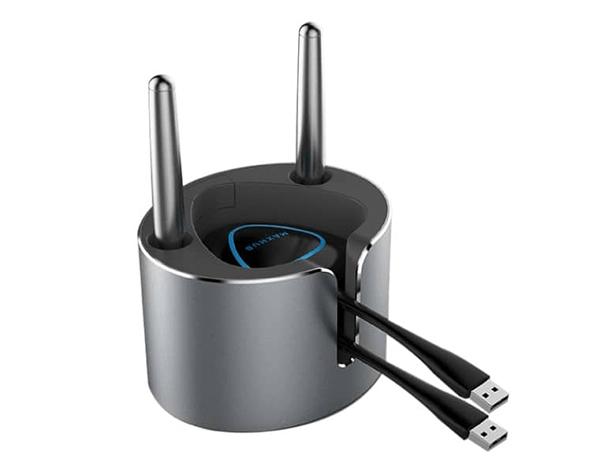 Maxhub PB01 Pen Holder offers the ultimate solution for organizing your workspace and streamlining your productivity! Say goodbye to cluttered desks, lost pens, and wasted time searching for writing utensils. With Maxhub pen holder, you'll always have a reliable place to store your favorite pens, markers, highlighters, stylus or any other writing tool you rely on.
Featuring an innovative design that's both sleek and functional, this pen holder is engineered with high-quality materials that ensure durability and longevity. The silicone base provides excellent grip while protecting surfaces from scratches or scuffs. Plus it has a non-slip bottom so it stays in place even when knocked over.
Not only does our smart pen holder look great on any desk but also saves space by holding up to 2 pens and 2 dongles at once without taking up much room. It's perfect for professionals who use multiple-colored pens during meetings; students who need organized study spaces; or anyone looking for an easy way to keep their workspace tidy!
Upgrade your workspace today with Maxhub PB01 Pen Holder –the perfect blend of style and functionality!
MAXHUB PB01 Product Specifications:
Manufacturer: MAXHUB
Model: PB01 Pen Holder
Color: Silver
MAXHUB PB01 Key Features:
Storage space for 2 dongles and 2 pens
Contracted and exquisite design
Elegant metal texture
Please fill in the information below, or email us at info@dms-ksa.com and a dedicated DMS expert will contact you soon.