Yealink UVC84 BYOD 210 Meeting Kit: Ideal Choice for Large Meeting Rooms
Yealink UVC84-BYOD-210 meeting kit is the ideal choice for large meeting rooms that require a truly collaborative, true-to-life communication experience. The kit provides users with a high-quality video and audio experience, while also being cost-effective.
Yealink UVC84-BYOD-210 meeting kit includes a 4K sensor USB camera that features 12x optical lossless zoom and 3x digital zoom, allowing it to capture every detail of the meeting room. Besides this, the camera offers a wide field view of 80° to support both mechanical pan and tilt, which can be done using a remote control or the Yealink camera control plug-in software. To ensure the best audio and video quality, the kit also includes the VCM34 array microphone and MSpeaker II.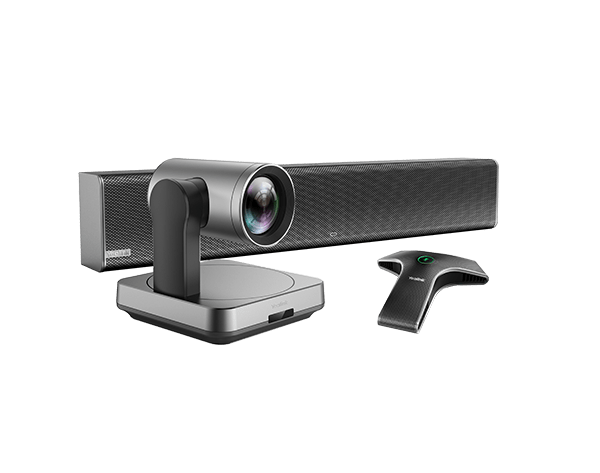 UVC84-BYOD-210 Key Product Features:
4K video at 30 frames per second
12x optical zoom, 3x digital zoom, presenting crystal-clear video image
Mechanical Pan, Tilt and Zoom
Auto Framing feature, more intelligent meeting experience
Smooth PTZ control by remote control or Yealink camera control plug-in
Excellent audio experience
Long endurance with BYOD box
Easy to deploy
UVC84-BYOD-210 Product Specification:
Manufacturer: Yealink
Model: UVC84-BYOD-210
Suitable Room Size: Large Rooms
Model Devices: UVC84 Camera, VCR20 Remote Control, 2 VCM34 Microphone Array, MSpeaker II Soundbar
Video Quality: 4K UHD
Optical Zoom: 12x
Digital Zoom: 3x
Auto Framing: Yes
Zoom Certified: Yes
Microsoft Teams Certified: Yes
Please fill in the information below, or email us at info@dms-ksa.com and a dedicated DMS expert will contact you soon.